How I Started My Sports Card Business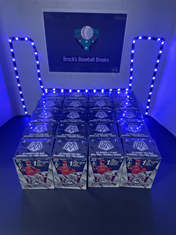 During the Covid-19 pandemic, interest in sports cards increased dramatically. While people were at home with less work demand, people filled their free time with the hobby that some enjoyed when they were younger. The sports card market was alive again, but this time people turned to the internet and bought, sold, and traded online.
The sports card market has changed greatly over the past decade. When asked about a word he would use to describe the sports card hobby John Calvecchio, owner of Sports Connection, used the word "evolutionary, because if you take the kids today things have changed so much, and their view of the industry is much different than mine was, now its kids breaking online rather than going to shows and grinding." One of the key pieces to the sports card market exploding was kids and younger generations getting into the hobby. When asked about what the key to a good sports card business is, Randy Rothrock, owner of Randy's Sports Cards, said, "having good customer relationships and continuing to get the kids involved." Marketing to younger people has been a great marketing strategy throughout my business, as well as other sports card business owners'
There are many different ranges of cards you can target. Cards can range from less than $1, and some are worth $1 million or more. When talking to Brian Paillard, polarbearcards21, he said, "I like to buy cards in the $300 to $500 range of good young players." Paillard also said that his favorite product is Bowman, which consists primarily of young baseball players who have not yet played in the MLB.
I started out selling cards strictly on eBay. I would list cards; they would sell, then I would ship them to people and get a payout. However, this became an inefficient way to sell because eBay took 10 percent of the sale as well as a 30 cent fee. Another issue with eBay was that it took a lot of time to list a large number of listings.
Around the middle of 2020, I switched my business model and turned to Instagram. I created an Instagram account and began listing cards as posts, and then when people wanted to purchase, they would direct message me and send money via Paypal or Venmo. This model worked for a long time, but getting people to follow the account and see the listings was difficult.
Finally, I turned to my favorite and most profitable model yet. I began breaking cards. Breaking is where people buy the rights to cards that you open live on camera. This could be picking a team format, picking a division format, or picking
a player format. I would buy sealed boxes and packs of sports cards; then, I would list them on eBay and advertise on Instagram. Once all the spots are sold, I would go live on YouTube, open the boxes, and ship the cards out to people. This was a great source of profit for my business because it was fun, took little time, and dividing the product into different teams and divisions made it quite simple to upsell specific teams with popular players at the time.
This business was something that I worked on for countless hours, and I had a lot of fun buying and selling cards. However, the market eventually cooled off again after the pandemic, and prices began to drop, making money from the hobby much more time-consuming. Eventually, I started getting tired of putting several hours into the business and getting much lower returns, so I ended up closing my business and leaving it as a hobby.
Leave a Comment
About the Contributor
Brock Denlinger, Student Writer
Brock Denlinger, Grade 12. Interests/hobbies include volunteering, hanging out with friends, going to the beach, and watching sports. Brock plans to attend...