Saving the Jungle
Business in Perkasie Represents Next Step in Protecting the Earth
Kevin Yardley, a business owner from Montana, owns Diamond Teak and Diamond Tropical Hardwoods. After graduating from Harvard University he and his wife volunteered to go to Costa Rica and teach English. After the two Harvard graduates realized they may not be stationed together, Kevin's wife, Christine decided to become a teacher in the program, and Kevin Focused on protecting the environment through business. In 1992, Diamond Tropical Hardwoods bought their first piece of land, an old Costa Rican cattle farm, and in 1993 began reforesting by sustainably growing Teak wood. Since then the company's goal is to reforest the Costa Rican jungle while creating sustainable products. The company sells raw lumber, as well as manufactures and sells luxury furniture. With every product sold, the profits go directly into planting more trees in Costa Rica.

Diamond Tropical Hardwoods is actively creating environmental change and focusing on a part of the global ecosystem that needs more love, Costa Rica, all while leaving a big part of its identity behind in Perkasie, Pennsylvania. Kevin, being the owner of Diamond Tropical Hardwoods, has a range of responsibilities day to day. Usually, he's working in the Perkasie warehouse, where he runs the company and operates the majority of company sales. Kevin says he has to focus on problem-solving and critical thinking, most of his job is identifying problems and figuring out the best way to solve them. When he is not in the office, he may be visiting Costa Rica. He travels there once a month for business purposes.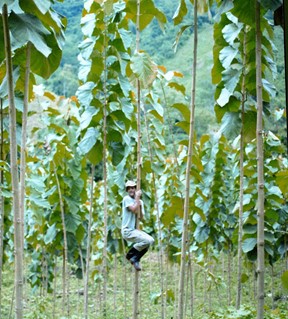 Having such a positive goal can help motivate someone. Kevin attributes part of his motivation to his environmental triumphs and is "Proud of planting trees." but makes it clear that since he's had kids, he's motivated more by them than anything else. In the 30 years that the company has been around, Diamond Tropical Hardwoods has accomplished a lot. The company owns over 1000 acres of protected jungle, including jungle that is untouched by humans, and restored jungle that may have had human activity in the past. After 25 years of focused restoration, some of this jungle is considered to be virgin jungle again. On top of this, over 1000 people get their drinking water from natural springs on the company's property.
Kevin has also seen a "Massive impact" on the animal population since he began working in Costa Rica. Previously, due to hunting and fishing the jungle was destroyed. In the 30 years of reforestation, Kevin has seen native species reinhabit the land that they once didn't inhabit. Scarlet Macaws, jaguars, pumas, and many species of monkeys all live on Diamond Tropical Hardwoods land. Kevin and Christine even relocated a family of sloths themselves!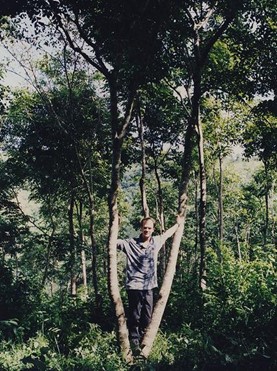 Kevin's companies are FSC chain of custody certified. This essentially ensures that products are coming from "responsibly managed forests that provide environmental, social and economic benefits" (FSC US) from all levels of manufacturing, from the forest to the sawmill, to the factories, and all the way to the products themselves. Without this certification, many clients wouldn't buy products as many companies/people only shop sustainably. An example of a company that does this is Martin Guitar, which buys veneer from Diamond Tropical Hardwoods. Kevin says that "Without the FSC certification, Martin Guitar would not be a client." While this certification isn't a requirement in the industry, it has a big impact on a lumber company's success.
Costa Rica has a very well-developed and ambitious reforestation program. They have made great strides in protecting their ecosystem. More than 10 percent of the country is protected. Costa Rica's biodiversity is beautiful and houses 5 percent of all known species in an area roughly the size of West Virginia. People like Kevin Yardley are what's pushing this large environmental movement. Kevin found a way to not only create change globally but continue to be a part of his community.
Sources:
"Chain of Custody Certification." FSC US, https://us.fsc.org/en-us/certification/chain-of-custody-certification. Accessed 7 December 2022.
"Costa Rica: Environmental Profile." The Rainforest, 7 February 2006, https://rainforests.mongabay.com/20costarica.htm. Accessed 21 December 2022.
"Differences between primary and secondary rainforest." Rainforest Journal, 14 July 2013, https://www.rainforestjournal.com/differences-between-primary-and-secondary-rainforest/. Accessed 6 December 2022.
"Spanish Cedar." Diamond Tropical Hardwoods, https://www.diamondtropicalhardwoods.com/about. Accessed 6 December 2022.
Leave a Comment
About the Contributor
Joe Pearson, Student Writer
Joe Pearson, Grade 12. Interests/hobbies include cello, philosophy, jazz piano, music theory, and relaxing with friends and family. Joe hopes to attend...