A Toast Towards Oktoberfest
With 2 million gallons of jet fuel and a Boeing 747, one could travel around the world sixteen times. With 2 million gallons of beer, one would be able to fuel the country of Germany for about a month. Oktoberfest is a German tradition where in the city of Munich, people come together and celebrate by eating an obscene amount of food and washing it down with plenty of alcoholic beverages. It all started in 1810 as a celebration of the marriage of the crown prince of Bavaria to Princess Therese von Sachsen-Hildburghausen. The celebration has been held every year since, with over six million people attending.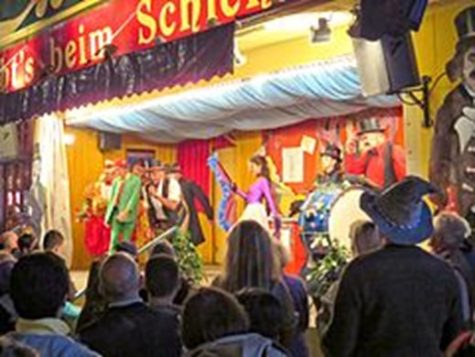 Oktoberfest is well known for one thing and one thing only, beer. For many Americans, especially those under the age of 21, this makes the event less appealing. However, Linus, a current German foreign exchange student, shared his experiences at Oktoberfest as a teenager. "It is literally created to have fun," Linus states, "People who don't usually drink, drink for Oktoberfest." According to Linus, Oktoberfest is very unique due to the energy of those involved. He shares, "When you are in Oktoberfest, there is a lot of singing and dancing, it becomes very loud," which may become intimidating to those interested in going to Oktoberfest. Linus also addressed the intimidation by sharing a common experience that may happen during the excitement. "Once the party is very loud," Linus cautiously shares, "people start to get on top of tables and dance. It is pretty chaotic, and the tables are not very sturdy." He then expressed how many tables would break due to this practice, but those celebrating would be unfazed and continue on with the celebration.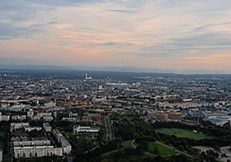 As an American, there are many things you should know before attending this wild tradition. Robert Streuber, a father who is heavily interested in German culture, and has been to Oktoberfest three times, shared some advice for going to this party. "Make sure to dress up in the Lederhosen and other such costumes," he states. "Americans wear tennis shoes, no one in Europe wears tennis shoes." The tradition to wear Dirndls, a female dress, along with Lederhosen, a male costume, is one that few break, making Americans stand out during the tradition. Communication is also key in the celebration as Streuber also points out how "[Oktoberfest] is really about meeting people that you would never really talk to." Another big piece of advice that Streuber mentioned was that Oktoberfest should not be the only part that you go to during your time in the country. "Oktoberfest is good to go to once," Streuber states, "but there are so many smaller parties to go to instead." He mentioned Weihenstephan, a popular German brewery and brewing school which holds its own smaller Oktoberfest, as well as serves more unique foods such as pork knuckles, which are pig knees roasted for over twelve hours. Streuber included other things to do in Munich which include but are not limited to, the downtown area which has been restored from the bombing of World War II, a BMW museum, a three-story high clock that sings every hour, Neuschwanstein Castle, and a lot more museums.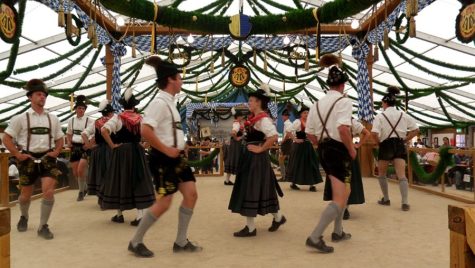 Linus also had some advice, referencing how to celebrate in the most efficient way. "You have to get a good table," Linus says, "One in the middle is bad, so you have to look for some near the food and drinks, but not too close to the chaos." He also expressed his thoughts about those under 16, the drinking age in Germany. "The party may seem overwhelming for those under the drinking age, as many parts of the celebration may be unfamiliar, and they will not be able to participate." Overall, those involved in Oktoberfest get very loud and drink a lot, creating an unfavorable situation for those under the legal drinking age, which may create some uncomfortable, and excluding types of feelings in those who are underage, discouraging them to come. However, if you are above 16, and are interested, the next Oktoberfest will always be at the same spot in the same place, at the same time. Just don't forget your costumes!
Sources
– https://www.oktoberfest.de/en/traditional-fashion
– https://www.britannica.com/place/Munich-Bavaria-Germany
– https://www.britannica.com/topic/Oktoberfest
– https://www.oktoberfest.de/en
– https://commons.wikimedia.org/wiki/File:MUC_OktFest_Schichtl_2013.JPG
– https://commons.wikimedia.org/wiki/File:20220923_Olympiaturm_01.jpg
– https://www.flickr.com/photos/[email protected]/5033830831/
Leave a Comment
About the Contributor
Brandon Vassallo, Student Writer
Brandon Vassallo, Grade 12. Interests/hobbies include Skiing, Lighting, NHS, executive council, traveling, and going to the Poconos. Brandon plans to attend...