A Dunk into Dunkin'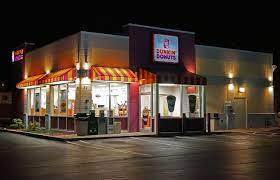 Dunkin' Donuts is known worldwide for its expansive coffee and donut selection. While some are critical of the freshness of Dunkin's donuts, most of the population at Pennridge High School has positive feedback regarding the donut shop. Teens at Pennridge see Dunkin' as a staple in their morning and afternoon routines, and with a Dunkin' Donuts right across the street, it's right on the way for teens driving to and from school. Despite being within range of the campus and having relatively low prices, there are some recurring criticisms about how Dunkin' is run and even some suggestions to help make the business boom even more than it already does.
The first Dunkin' Donuts was founded around the time of World War II by William Rosenberg. Rosenberg worked at a store called Quincy Shepyards and noticed that because there were such limited food options for lunch, people had started to dunk their donuts into their coffee. In 1950, Dunkin' Donuts was the new name because of this realization, and the first restaurant opened just five years later, in 1955. Eight years later, the franchise opened its one-hundredth store, and in 1979, just fourteen years after its opening, there were restaurants in 1,000 locations.
The restaurant is just as popular today as it was around 70 years ago. Customers of all ages frequent Dunkin's at various locations throughout the world. The teens and teachers of Pennridge High School specifically are partial to the renowned donut shop and have overall positive feedback when it comes to Dunkin'. Because of its proximity to the school, its strategic placement keeps sales high. When students arrive on campus in the mornings before school, the line extends from the drive-through line to the street. It congests the area around the traffic light and the road leading up to the school because it's often visited in the mornings before school. Students are even sometimes late to class because of this and often tell their first-period teachers, "Sorry I'm late; the line at Dunkin' was so long."
Pennridge Senior Taryn Shine goes to Dunkin' – she approximates- twice a week. However, this is less frequent than some students go. Shine reports that her go-to drink is the latte, which made her want to go to Dunkin' in the first place. When asked how Dunkin' improves her mood, Shine responded, "it makes me feel hyped about my day." Students who arrive at school with Dunkin seem happier and more excited to be at school than students who do not, as Dunkin' offers a large selection of signature drinks and flavors of donuts.
On the contrary, some of the logistics of Dunkin' leave something to be desired. Shine states that while the lattes are good, the employees could be friendlier by acknowledging customers. Most students would agree that the service at Dunkin' Donuts is lacking, and the employees could improve their "people skills." Bob Cousineau, a teacher in the History department at Pennridge, also thinks that Dunkin' could do more to raise its profits and food quality. Cousineau states that he goes to Dunkin' because "it's convenient and it's close" and has "nothing to do with the quality" of the food or the drinks. He thinks it's in Dunkin's best interest to turn the donut shop into a coffee shop and focus less on the donuts because, according to him, "Coffee is addicting and [Dunkin] as a business would do better marketing themselves as a coffee shop."
Even though the claim is "America runs on Dunkin'," it seems more like we are walking. Dunkin', as reported, appears to not live up to the same standards as it once did, and quality is declining with each passing year. While it will most likely continue to bring in plenty of business, its quality is sub-par and could be improved. Let's get Dunkin' up and running again for America, not the other way around.
Leave a Comment