A Community Favorite: Rosemarie's Italian Ice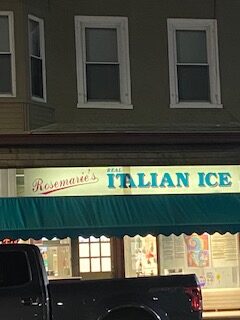 With so many options, looking for a tasty cold treat on a warm summer night can be difficult. Look pretty close, though; Rosemaries's Real Italian Ice is a perfect place. Rosemarie's is a community favorite located in the borough of Quakertown, PA.
Rosemarie's offers so many options for delicious, creamy, and cold treats. Rosemarie's has over 30 water ice flavors you can choose from and a variety of sizes as well. Not only do they sell water ice, but they also sell over 25 flavors of ice cream, either soft serve or hard scooped, in various sizes. The options continue; you can order gelato, milkshakes, sundaes, banana splits, and endless toppings.
The prices are even better because they have many flavors and endless options. Rosemarie's is highly affordable, where large water ice is only $3.25, and you get so much water ice. Compared to other places like Rita's water ice, their prices are a bit higher, where a large water ice is $4.99. A Quakertown Community High School senior, Shane Murphy, states that Rosemarie's differs from Ritas or any other business because of the "better pricing and overall quality." The cheap pricing and quality make this business a community favorite around town. Many community members come out and support the company in the summertime.
The location of Rosemarie's is ideal for all the people in the Quakertown community. Located at 304 W Broad St. Quakertown, PA 18951 makes it accessible for many people. Liv Litvinchuck, A Quakertown Community Member, states that "she loves the fact that it's in downtown Quakertown" and feels "that it has brought people together in Quakertown" Murphy also agrees that Rosemarie's has elevated the community and states "it's a good place for any family and is very cheap, so lots of people can enjoy it." Not only is the location ideal, but the business hours are as well. Rosemarie's is open from noon every day and closes at 9:30 p.m. every night except for Fridays and Saturdays, where they are open until 10 p.m.
The staff at Rosemarie's represents the community in Quakertown, where all the employers are so lovely, and they are quick service. You can engage with them, and they genuinely love their job. The employees are super friendly and super helpful and patient with customers. As Murphy has been going to Rosemarie's for a couple of years now, he has nothing but nice words to say about the employees. Apart from the delicious desserts Rosemarie's offers, Murphy's favorite thing about Rosemarie's is that "the people here are always really nice" Building a strong community comes from the people living there, and Rosemarie's employers do a fantastic job bringing everyone together.
The next time you are looking for a sweet tasty treat, check out Rosemarie's natural Italian ice. It has so many different flavors, toppings, and sizes at an affordable price. It's a community favorite where you will most likely see your friends and neighbors, and you will all come together while enjoying a tasty treat on a summer day or night.
Leave a Comment
About the Contributor
Jessica Levush, Student Writer
Jessica Levush, Grade 12. Interests/hobbies include playing soccer, going to the gym, babysitting, hanging out with friends, spending time with family,...