Come One, Come All: Tropical Smoothies Near You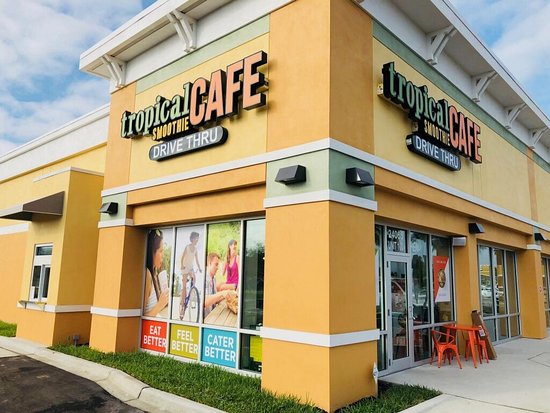 Smoothies, a treat enjoyed by most. Tropical Smoothie, an independently owned franchise, is satisfying the desire for this frozen treat in Quakertown, Pennsylvania. This location was opened in late January 2023. Currently, there are 1,150 Tropical Smoothie locations in the United States, with about 100 new locations being added every year. The 25th anniversary of the Tropical Smoothie franchise was in 2022, with their development happening in Destin, Florida. in 1997. In 1998, they were able to open their first franchise in Tallahassee, Florida. After this, in 1999, they added sandwiches and wraps to their menu.
Smoothies are a hit within the state of Pennsylvania, with the most popular smoothie flavor being banana. In a survey given at Pennridge High School, the most popular smoothie flavor was strawberry, with mango being a close second. Despite the most popular smoothie flavor being banana in Pennsylvania, only 10 percent of the Pennridge respondents said that their favorite smoothie flavor was banana.
The customer satisfaction at Tropical Smoothie is amazing, with customers always raving about how well the establishment is run and how good the food and smoothies are. Colbie Chakin, a frequent customer at the Quakertown location, stated, "I just love the smoothies, they are so refreshing, and the food is amazing."
The Tropical Smoothie chain has a lot of potential, having the possibility to make over $1 billion in sales over the period of the next five years. They are also making a name for themselves by being on Fast Casual's "Top 100 Movers and Shakers", Entrepreneur's "Best Franchises for Any Budget", Nation's Restaurant News' "Top 200" and "Top 10 Fastest-Growing Chains", and Franchise Times' "Fast & Serious" lists.
To ease the process of ordering, Tropical Smoothie has made an app where you can easily make your order without waiting in line, waiting a long time for your order to be ready, or having unwanted social interactions. You can use this app to order in advance for either pickup or delivery. You can easily customize your order and make sure it is exactly the way you want it to be. Also, there is a point reward system where you can use your points to get special perks. Even with the normal ordering Tropical Smoothie provides, they also have a catering service. They have smoothie bundles, boxed lunches, and food trays available to purchase. You can get fresh, made-to-order smoothies, wraps, and salads for your whole group, no matter what it is. You can do this at parties, your work office, or any other event you can think of.
Tropical Smoothie has been making many partnerships over the years they have been established, including a partnership with Camp Sunshine in Maine to serve kids with life-threatening illnesses. Through this partnership, they were able to raise more than $7.5 million to help with the cause. On top of this, they also partnered with Beyond Meat in 2013 and were the first national chain restaurant to serve their chicken products.
On top of all of the services that Tropical Smoothie has to offer, they also have hard-working and pleasant employees. Kali Hanson, a worker at the Tropical Smoothie location in Quakertown, stated, "My co-workers are hard workers, and they make it easier to work here." She also stated how, "The application process was very easy, and I filled it out online. It is a one-page sheet."
If you ever have the chance, it is definitely recommended that you check out the newly founded Tropical Smoothie location in Quakertown. It has amazing smoothies, great food, and pleasant employees. All of these aspects are sure to make your experience there a great one.
Sources:
https://www.tropicalsmoothiecafe.com/our-story/
https://www.mashed.com/221297/the-untold-truth-of-tropical-smoothie-cafe/
https://www.nbcnews.com/better/pop-culture/how-build-better-smoothie-according-nutritionist-ncna874006
https://pantryandlarder.com/most-popular-smoothie-flavors/
https://www.tropicalsmoothiecafe.com/download-app/
https://www.tropicalsmoothiecafe.com/catering/
Leave a Comment
About the Contributor
Jessica Remphrey, Student Writer
Jessica Remphrey, Grade 12. Interests/hobbies include dancing, NHS, playing video games, spending time with friends and family, and watching crime documentaries....